24 May

"From the thirties old wines according to the refined connoisseur Rino Fontana" by A. Cappelli Rino

Posted at 14:44h

in

Press

"Il Chianti e le terre del vino" – Italy, Mar/Apr 2009) by A. Cappelli, photos by B. Bruchi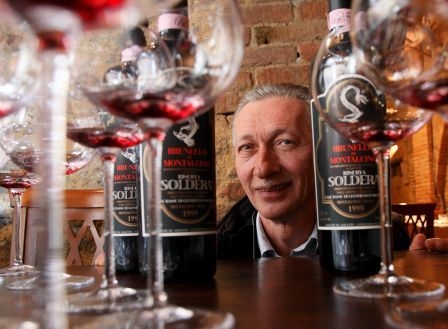 The great wine connoisseur Rino Fontana tells us his story and his great passion for wine, old wine though, that has made its way through his life since childhood. He was born in the heart of the Oltrepò Pavese area, in the old village of Suardi. He was first introduced to the world of wine thanks to his father's winemaking. His father bought grapes and worked them himself, making wine for the family table and whose aromas and flavours his son can still remember. Rino was a jeweller by trade, with a gold factory in Valenza, but he started to go round the wineries at the end of the seventies.
How many years did it take to refine his taste?
"I had to drink a lot and taste everything. I started off with some friends, one year, we came to Tuscany and did 22 wineries in ten days. I brought home some bottles of wine from all of the producers, six bottles here, twelve there … Then we went to Friuli and did 14 wineries there. We were lucky enough to have met Josko Gravner and to appreciate his great white wines. Finally we went to Piedmont: in four days I had bought so much wine that on the Saturday I asked three friends to drive to the Langhe area so that I could load up their cars." Rino began to buy his first important wines in the eighties and these were from Piedmont, from the Langhe, such as the first vintage of Bricco dell'Uccellone. "I will always remember when I ordered 12 cases of 12 bottles of Bricco dell'Uccellone 1982 from Giacomo Bologna: the surprise was when I went to collect it, Giacomo told me it wasn't ready because it had to stay in the barrel and he would have sent/was going to send a letter to all his customers when the wine was ready for collection. In fact we went to collect it almost a year later, except that when the moment finally arrived, although Giacomo had the written order, he told me he could only give me one case of 15 bottles, otherwise he would not have been able to satisfy everyone." Rino's passion grew and grew through the years, his taste matured, refined and with it the desire to visit wineries, to go and see the vineyards and to know the producers directly. In the mid-nineties, Rino's passion turned towards old wines. "The first were Barolos and Barabarescos," says Rino, "but to really appreciate old wines, besides drinking them, you need to understand what is behind them, i.e. walk in the vineyard and speak to the men who made them. Then I started to notice that when I drank old wines, I felt well and they didn't bother me in any way, in fact the acidity is very low as it decreases through the years." In this period he earned his nickname 'Rino of the widows': "A friend of mine who had a restaurant in Val d'Aosta," he recounts with a smile on his face, "told me about a widow who owned an excellent cellar, full of old wines that she wanted to sell. So he gave me her phone number, I contacted her and went to see her: I entered this cellar and there was everything, I think there must have been about six or seven thousand bottles and I started to pull out some vintages, which went from 1947 to 1978, the year her wine enthusiast husband died who had bought these wines, all laid out meticulously according to the vintage." From that moment Rino realised that one of the best ways to find old wines was to contact ladies, especially in Piedmont, who had lost their husbands but had kept their poor husbands' wine treasures in the cellar. As well as widows, the producers, who had become Rino's friends, helped him a lot: "The knowledge of producers was very important for me, they were offered very old wines but no producer wanted to buy them. They took the telephone number and passed it on to me. I contacted the people who wanted to sell, I went to have a look and many times I travelled miles and miles for nothing, because I found lots of wines that had been badly preserved."
For old wines in Italy, where do you need to go?
"To Piedmont and Tuscany. For old Tuscan wines, I was lucky enough to meet Gianfranco Soldera with his extremely elegant Brunello, Selvapiana in Chianti Rufina, where I have drunk/drank very good wines that I didn't think would be still so fresh, and finally Sergio Manetti from Montevertine, who I have always like and who helped me find a lot of his old wines. When I talk about old Tuscan wines, I am always talking about in the last thirty years, before that there are only Barolos and Barbarescos." The overwhelming passion for old wines has completely absorbed/taken up Rino, who, still today, when he opens a bottle from fifty, sixty or seventy years ago, is amazed every time by its freshness and how producers from the past managed to make such long-lived wines. "These producers didn't select like they do today and were more interested in quantity than quality, they pressed with their feet and the cellars were without technology, but open a bottle and you find it so fresh that it seems like you are drinking a wine that is no more than fifteen years old. I can't understand why so many producers today, especially in Piedmont, don't ask themselves why those bottles have lasted so long and are still so good today: some old producers say that the grapes were different, there was less pollution."
What do you think is the secret of these old vine growers who managed to make such long-lived wines?
"They worked with longer vinification, you can't make a Barolo or a Barbaresco with vinification of three, four or five days just to have a lot of colour and tannins, it's absurd. Wines made in the traditional way, with vinification in wood lasting twenty, twenty-five or even thirty days, depending on the year, must surely spend a long time in the barrel because, with long vinification, good wood can only do good. For example, Monfortino 1970 matured in barrels for nine years, the 1968 for ten, whereas the normal period is seven, today for example, the 2002 will stay in the barrel for eight years. Today wine is no longer vinified in wood, but in steel or directly in barriques. These wines have no substance, you open them and they are ready immediately, but my experience tells me that they won't make it to ten years, in fact they begin to decline shortly after they are marketed and are fine for the Japanese or Americans…".
But do you think wines made today will last fifty years or not?
"That a Barolo from the 2000s can last fifty years or not, I wouldn't like to say, only those by few producers will last." Why did there use to be many producers in Barolo whose wines aged well, while today it isn't so? "Round about the middle of the eighties, Barolo and Barbaresco sold very little, young people who started making wine wanted to become somebody on the market quickly and decided to adopt French methods to get there quicker. So they started using very short vinification, maybe even with great grapes that were ruined in the cellar."
Do you know a great wine for ageing made in barriques or only in large barrels?
"No, so far I don't know of an Italian wine made in barriques that can stand the test of time. My direct personal experience tells me that for longevity of wines you must only use large barrels. And in great wines for ageing it may happen that in certain vintages, when they are marketed, they are good straightaway, but after six months they close up again and ten years have to pass before they open up again." Rino's experience has covered a few decades, and asking him to describe the wines he has had the pleasure and honour of tasting, you can see all his passion as he talks about them, starting from the thirties: "The oldest bottle I have drunk that was still great was a Barolo Borgogno from 1931. I've also drunk something from 1924 and 1928, but it was nothing special, maybe it had been preserved badly. The best years of the thirties were definitely 1931, 1934 and 1937, all bottles by Giacomo Borgogno and a Conterno Monfortino from 1937. As for the forties, using Borgogno and Giacomo Conterno as a reference, I remember 1941 and the 1947 Borgogno, which was a great year. I also have wonderful memories of a 1945 Barolo by Giacomo Conterno, which I drank several bottles, really great. For the next decade, the best years were 1952, 1955 and 1958 and, besides the Borgogno and Giacomo Conterno wineries, Giuseppe Mascarello started to make a name for himself. At the end of the fifties you can start drinking some good Barbarescos by Gaja, really great Inferno from 1955 and 1958. In the sixties, other producers came along, such as Giacosa, Oddero, Marcarini and Pira. The great years were 1961, really great, 1964, 1967, which at the time was an abused/mishandled vintage, but turned out to be exceptional and 1968. Also Gaja's Barbaresco in 1961, 1964 and 1967 are good bottles. Of the seventies, I remember not only the first year but also 1971, which was great, and 1974, another great year, although not for many producers, however it was revalued/reappraised due to the low quality of the years before and after it. Then, from the same decade also 1978 and 1979, when some producers made some really great bottles, such as Giacomo Conterno, Bartolo Mascarello, Enrico Pira and Bruno Giacosa whose wines I was lucky enough to drink many bottles of, he made really good Barolos and Barbarescos: we must say that Barbaresco today is still Bruno Giacosa. Finally, the eighties: 1982 and 1985 were excellent years; 1986 was only good for some producers and many produced a good wine in 1987, then a great 1988 and a splendid 1989. The group of wineries is more or less the same. In the eighties I drank some good wines by producers such as Domenico Clerico, Enrico Scavino, Bruno Rocca's Barbaresco and I have good memories of Luciano Sandrone's 1982 Barolo: unfortunately, these producers got lost towards the end of the eighties, because of changes in the way they worked, they started making international wines that many could afford, broadening their group/band of customers, but losing quality in my opinion, as well as me as a customer."
When you open these old bottles what sensations do you have/feel?
"I find a lot of sweetness, on the nose there are aromas that vary from one area of Barolo to another, or from one area of Barbaresco to another, some are floral, others of macerated fruit, almost syrupy. But what strikes me the most is the sweetness and pleasantness of drinking them. A wine is great when you would continue drinking it, because you can taste anything, but there are few wines you can continue drinking without getting fed up with them. I drink a lot of an old wine and I feel fine, whereas a young wine, although it may be good, has a limit and you get tired of it." When I ask him what his three best wines are, he appears to be in difficulty, as if he doesn't know which ones to choose. "That's a difficult question. Definitely Gianfranco Soldera's 1979 Brunello is unforgettable. Then in Piedmont Bruno Giacorsa's 1964 Santo Stefano di Neive Riserva. It's difficult to choose one Barolo, but I have fantastic memories of Giacomo Borgogna's 1931, the 1958 Monfortino and Giuseppe Mascarello's 1964, that's for sure."