25 May

"Soldera in the Eighties: The Rose of Montalcino" by F. Bartolotta

Posted at 17:48h

in

Press

"Il Chianti e le terre del vino" (Italy – Jul/Aug 07)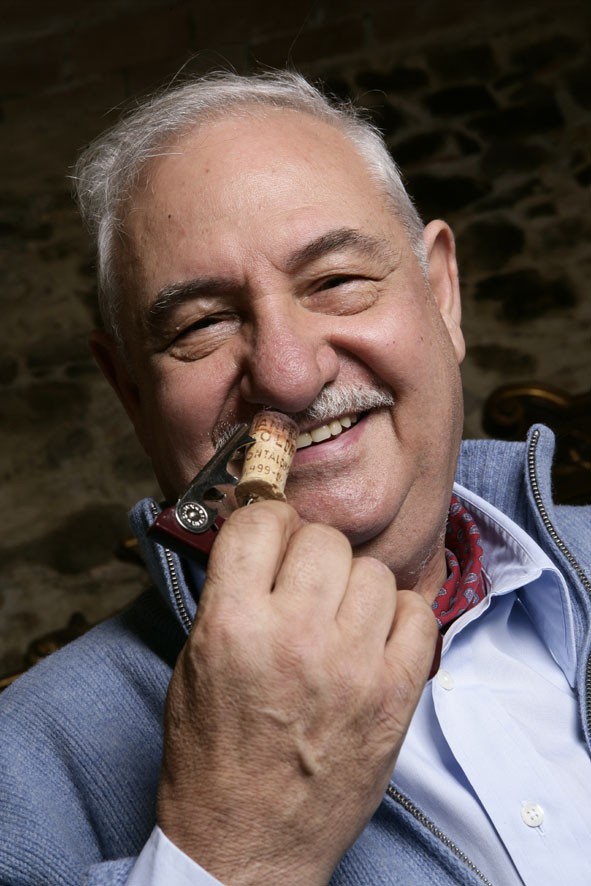 "There are only ten wines worth drinking". In Italy? "No, of course not, in the world!".
Gianfranco Soldera's reputation precedes him wherever he goes and although he is aware of this, after about an hour you begin to get through to the person and not just the personage.
The legendary Brunello producer is not only famous for his exquisite Case Basse Riserva, but also for his strong opinions.
To describe Soldera's opinions as 'strong' would be an understatement, because they are generally as sharp as a razor and come at you without giving you time to dodge.
His great Brunello has a smoother approach, but this does not mean that it is any less honest and overwhelming: its bright and clear light ruby-red colour immediately reveals a style and origin that leaves you no doubts
Soldera's Brunello is immediately distinguishable from other Brunellos that have adopted more modern styles characterised by darker and more concentrated colours and a timbre that plays on muscularity.
Case Basse Brunello, with its marked and refreshing acidity, is an elegant wine with an unmistakeable style; though Soldera is not one to make it a question of style: "This is the only way to make Brunello, the best expression of Sangiovese in the world that can only come about in Montalcino".
For Soldera, Montalcino is a magical place to make wine. A shameless lover of Barolo – or rather of Nebbiolo made in a couple of vineyards in the Langhe area and only in a tiny handful of years – Soldera decided to make wine in Montalcino because of its generous climate and the good land: it is almost impossible to make bad wine in this land. "Out of thirty-five harvests I have made thirty-two great wines, the 1976, 1989 and the 1992 I gave to the hospices!"
And while Soldera admits his frankness to be a fault in his character, there is a twinkle in his acute eye as a sign that he likes it that way.
We often talk about terroir and areas where great wines are created, but too often however we forget about the decisive role of the person who makes the wine. Soldera and his Brunello are a single thing, an obvious form of symbiosis between man, a grape variety and a piece of land.
Each step, from the selection in the vineyard to four years in large Slavonian barrels to the further necessary years in the bottle, there is only one person who decides on the destiny of Sangiovese at Case Basse: Soldera. The only outsider who has a say in the matter during the tasting stage is the master taster Giulio Gambelli, with over 65 years of experience behind him.
"If I had found land in Piedmont I would never have met Giulio Gambelli, who has made me discover how sweeter, deeper, longer, more elegant and harmonious Sangiovese is with respect to Nebbiolo or any other variety."
A few months after I had visited Soldera at Case Basse I asked Gambelli what he thought were a couple of great vintages of this important winery. He did not speak for a while and said "Gianfranco's 1983 is one of the best Brunellos ever produced!" With a satisfied smile he added "I have tasted Gianfranco's 2006 … an extraordinary wine."
Soldera only produces Brunello and mainly because he likes to drink it himself.
Sitting at the table for over three hours, Soldera can not conceive how you can taste a wine without drinking it, at every course he lets you notice how this wine even perfectly matches boiled and raw artichokes with lemon juice, "I am prepared to compare my wine with any white or red in the world. I often do it, but rarely do I find one that can stay open for more than a week and accompany a whole meal in abundance without making you ill!"
The tannins of the Case Basse 2000 drunk at "Leccio" of S.Angelo in Colle are sapid, almost savoury. This, combined with great acidity, means it does not fear the tannins and the iron character of the artichokes. The best however comes when I order panna cotta. Soldera smiles, satisfied, and watches me calmly while I marry his wine to the dessert without making a strange face: the tannins are a little harsh and the wine dries the mouth slightly, but after another sip the palate resets itself and you are ready to go on.
There is no doubt that the drinkability is on the side of Case Basse. A wine with deep mineral scents and soft tannins, perfumed like face powder.
Soldera seems to achieve these results with extraordinary simplicity, "the wine goes from the land to the glass without too much interference. It is the grapes that tell you when they're ready, whereas the wine tells you when it wants to be bottled. The malolactic starts when it wants to and the large Slavonian barrels are the containers that keep the wine alive without adding tannins, aromas or who knows what else".
In the Case Basse cellar, 14 metres underground, everything breathes: fermentation and maceration in wood, the walls of stacked stones seem to emanate fresh and humid perfumes of soil and flowers. The whole cellar is surrounded by two hectares of garden where his wife cultivates 1000 kinds of antique roses. Soldera works so that everything is as natural as possible and while he walks with his head bowed in this little Eden, I realise that I am entering a different world where naturalness, straightforwardness and simplicity  seem to be the only game rules.
His eight hectares of loose land of sand and marl are officially neither organic nor biodynamic, but the respect for nature is obviously very strong. In his vineyard and his cellar he moves with familiarity, but one feels that he is only there as if he were the guardian of a very special place where he creates the best conditions for Sangiovese to best interpret the territory it is native to.
We can find confirmation of this from the barrel tastings of his oldest wines.
The 2006 comes forward with aromas of sour cherries and orange rind, leading the way to graphite notes and a sapid, almost saline palate; the 2005 seems to be directed more towards a certain concentration of fruit and ample tannins with a pleasant peppery finish; the 2004, however, emerges with a more marked aromatic drive, a clean fruitiness of cherries and strawberries on a background of tannins with great structure and refined elegance; the 2003 distinguishes itself from the others for its more evident tannins (of course, it's a seven-month baby! I had to harvest early and therefore there is a different maturity of tannins!) and for its more mature fruity notes with a certain spiciness; the 2002 comes forward with very soft tannins and a more marked spiciness, although at the moment it is the most difficult to drink.
In the cellar there is always a question about yeasts: Mr Soldera, what do you think about selected yeasts? "What would you think if someone else went to bed with your wife?"
In reality, behind this reply there is hidden a very long and very important scientific project that Soldera has been following for years with Florence University and particularly with Professor Vincenzini, professor in microbiology: "We still haven't carried out enough studies on wine, but with Gianfranco we have made huge progress. We know the strains of Case Basse yeast very well and we know that each year there is a strain that is represented 10 times out of 11, it is the GFS1 (editor's note: Gianfranco Soldera). Thanks to this willingness to study what happens at Case Basse, we have discovered how long a wine stays alive, i.e. how long we can find living microorganisms that help to create a lot of the flavour in the wine and that change the original flavour by at least 25%."
We are at the table once more with Gianfranco Soldera, two weeks after the first meeting. And while Prof. Vincenzini talks about the "life" of the wine, Soldera, impeccable in his light blue shirt, braces and white fishing hat, personally opens four 1980s vintages: 1981, 1983, 1984, 1985.
It is one of those moments in life when you realise that the light around you is a little different than usual, like when it suddenly starts snowing.
Tasting, or rather drinking, Soldera's 1980s, uncorked by him with his daughter and a few friends, is an experience that cannot help but change the history of Sangiovese in Montalcino.
According to Soldera's assessment scale – the most-drunk bottle – the best wine in the battery  was the 1981, closely followed by the 1983, then the 1984 and finally the 1985.
If we enter into more detail however, the sapid and mineral character of Case Basse emerges with its refined aromatic power, an unstoppable freshness and a soft and balanced tannin, the same common features in his recent wines.
It is difficult to contest the result of the most-drunk wine. The 1981 is clearly the most ready today, marked by evident notes of liquorice, coal tar and truffle and a soft, balanced palate which won over everybody within an hour of opening the bottle with its contrast between freshness and decadent opulence. The 1983 was perhaps the youngest of the group with aromas of pleasantly ripe blackberries and cherries, a tight-knit, silky and refined tannic structure. This was the most concentrated of the wines, immediately evident from the colour and right from the start it revealed itself in all its strength and elegance, with many years ahead of it yet.
But the real surprise for me at the table was the 1984. Like the 1981 it was a difficult year that has only established itself through time. The aromas are the mineral tones and fruits of the forest of the great Burgundy Pinot, which alternate with dried roses, mushrooms and undergrowth. A great softness of tannins but still a fresh structure and a reassuring and multi-sensory finish!
And finally the 1985, which is decidedly the most closed of all. It opened up a little in the final stages with interesting leather, black pepper and rhubarb notes. From the important palate with some more oxidative hints than the others which were then released in the glass to leave room to notes of tobacco leaves and coffee.
There is no doubt about the paternity of all four wines and likewise for the continuity of taste found from the 2006 to the 1981, with very similar organoleptic characteristics.
The freshness and sapidity are the unmistakeable style of Soldera's Brunellos. This freshness and sapidity are like angels protecting a very subtle, deep character whose intense and ethereal aromas and whose softness will not delay in revealing themselves, gliding above you as light as rose petals.